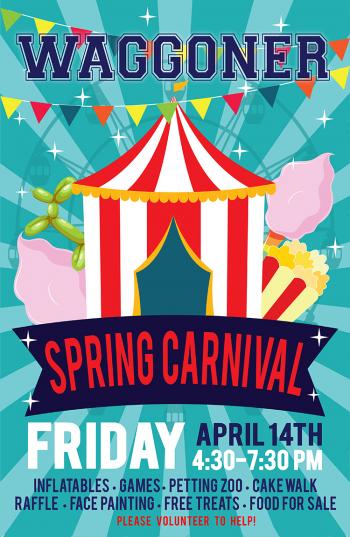 Please join us for one of our funnest events of the year! At this year's Carnival, we will have a trackless train, inflatables, a petting zoo, a cake walk, fun games, face painting & animal balloons, and FREE cotton candy, popcorn, and filtered water.
ALL inclusive wristbands are available online now and can also be purchased at the door! Wristbands are $12.00 for students.  Adults and kids 4 and under are free and don't need a wristband. Here's the form:
Pizza, churros, raffle tickets, and legacy tiles will be available to purchase separately at the event.
You can pre-purchase your pizza here now as well. Use this form:
VOLUNTEERS & ITEM DONATIONS NEEDED
This is our biggest event of the year and we rely heavily on volunteers to help run it. If you plan to attend this event, PLEASE volunteer a portion of your day or evening to help this evening run smoothly. We can't do this without your help! We are also in need candy, small prizes, and cake donations for the cake walk.
Volunteer Here Donate Items Here
Classroom raffle baskets are currently being assembled please reach out to your class parent with any items you have to donate. We are excited for this FUN community event and we hope to see you there. With questions email PTOWaggoner@gmail.com