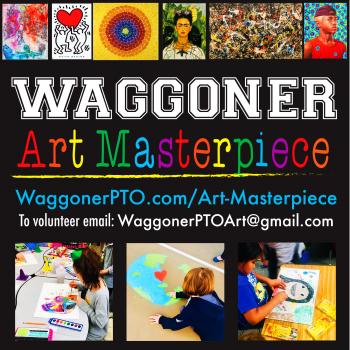 The Art Masterpiece classes will be in each classroom October thru April. Please sign up for any class you wish to teach via the signup genius: Art Masterpiece SignUp  
"Art Masterpiece is a great way to volunteer IN your student's classroom. There is a slideshow to go over with the class and an art activity for the students to do after the slideshow. I usually invite one of my parent-friends to volunteer with me. We have gotten to know our kids' classmates and teachers so well because of this program." - Waggoner Parent Volunteer
Art Masterpiece is a nationally-recognized art enrichment and education program. This program encourages art literacy and develop cognitive, analytical, and creative thinking skills. It is run entirely by volunteer parents.
Art Masterpiece lessons are pre-planned, last approximately 45 minutes, and include a fun "hands-on" art activity. The purpose of this program is to increase children's awareness of art in the world around them. We accomplish this by introducing students to various elements of art and design in fun and easy-to-grasp ways.
Are you interested in volunteering for the Art Masterpiece program?  You do not have to be a former art major, artistically gifted, or even well-versed in art.  All you need to be is available to volunteer and reliable to show up. The presentations are already designed and available to download. You just have to present them!  Art Masterpiece is one of the few volunteer programs where you can teach in your child's classroom!
Click here to see our Art Masterpiece Program by Grade Level.
Upcoming Events
Interested in Volunteering in your child's classroom?
Art Masterpiece provides the perfect opportunity to do that. NO ART experience necessary!!