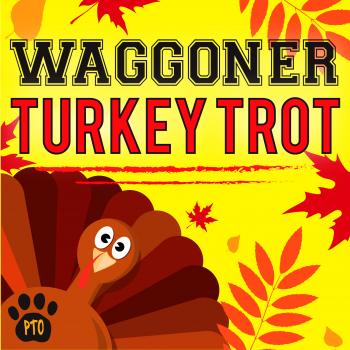 Waggoner's annual Turkey Trot is on TUESDAY, November 21st, 2023.
Start your Thanksgiving Holiday off by joining Waggoner students and staff for our annual Turkey Trot! 
Each grade will run an obstacle filled course around the school. After they run, the kids will go to lunch. Parents and families are invited to join as runners, cheering squads, volunteers, or obstacle creators.
More information on start times for each grade and volunteer opportunities will be released closer to November. 
If you would like to design an obstacle course (temporary or permanent), please contact the committee chair.
Upcoming Events
Come watch your kid(s) run our annual Turkey Trot course around the fields of Waggoner Elementary. Hang out and have a picnic lunch after, or head out early and head home for Thanksgiving.