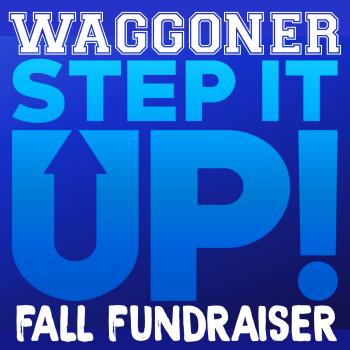 Step It Up is our annual school fundraiser-this single fundraiser supports our school and PTO for the entire year.  Last year the Waggoner PTO funded workshops for teachers; start-up funds for each classroom and grade level support funds; supplies for the health office; school wide Science Fair; Trunk or Treat; Turkey Trot; Student-showcase; Book Fair; Carnival and the Yearbook.  We raise those funds primarily with one annual fundraiser.
Our 2023-2024 Step It Up! program kick off is on August 14th!  You can participate by clicking the link below. It will take you to our school's fundraiser website where you can set up your child's Personal Donation page and invite your friends and family to join our efforts to help our school!
www.StepItUpKids.com/Waggoner85284
We need your help to raise money to:
1.     Increase in school experiences such as Childsplay and Nerding
2.     Buy books and supplies to enhance classroom learning and 
3.     Continue to grow our community events!
This entire fundraiser can be completed in TEN MINUTES OR LESS. Please send out TEN or MORE emails via your Personal Donation Page and your child will qualify for the Golden Ticket prizes and drawings! Have your child return their completed Golden Ticket to school TUESDAY, AUGUST 15th!
Join our REVOLUTION of FUN. It's quick, it's easy and it's a great way to support your student as they use their awesomeness to help others! 
Please help us reach 100% participation this year, so that we can continue to fund and support our students' bright and amazing future! 
Here is a copy of the Golden Ticket Packet and general fundraiser information. Need help completing the Golden Ticket Assignment? Click HERE to watch a video!
This school year's DAY OF AWESOMENESS is on October 31st!!!
Upcoming Events
Students celebrate the Step It Up fundraiser with an outdoor party.