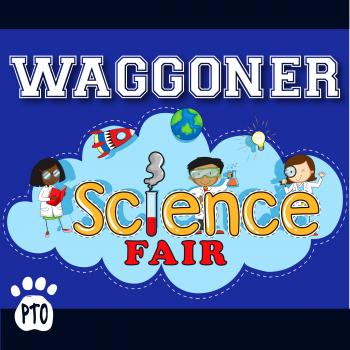 The Waggoner Science Fair is an opportunity for students at all grade levels to learn about the scientific method and participate in a fun experiment or project which will be displayed inside of the school. At the end of the Science Fair students will be interviewed about their projects and treated to a pizza party! Please contact the Science Fair Chair for more information on helping out with this fun event!
Waggoner's Annual Science Fair will begin on Tuesday, March 26, 2024. All entries are due the week of April 25th, 2024.  
Experiments should be student work only and completed at home.  3rd - 5th graders should complete an experiment that includes all the aspects of the scientific method.  K - 2nd graders may complete an experiment or present a science project.  All participants will prepare a tri-fold board or a google slide presentation to be shared during an interview with adult volunteers at the Science Fair in April.  Boards can be dropped off after school on Wednesday, April 24th or Thursday April 25th in the morning.  All participants are invited to a pizza party.  Please register at Science Fair 2024 Registration, so we can plan for volunteers and pizza.
If you are interested in becoming a volunteer interviewer, please email WagScienceFair@gmail.com. Volunteers will be needed between 8-10 am on April 25th. We look forward to seeing all the amazing work the students do!
Links for Ideas
Scientific Method for Kids | Learn all about the Scientific Method Steps
BrainPOP Scientific Method
Elementary Science Fair Planning Guide Science Fair Ideas
Elementary School Science Projects Science Fair Ideas
50 of the Best Science Fair Project Ideas for Kids - Waterford.org
Upcoming Events
Science Fair kicks off on March 26th.
Projects are due on April 25th.
A pizza party celebrating all the Science Fair participants.