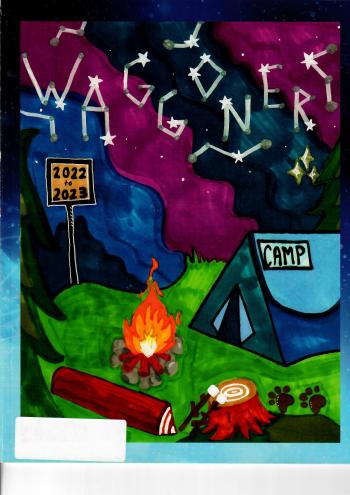 CLEANING OUT THE CLOSET SALE!!!!!
Last Year's Yearbook only $5 (only a few left). 
All previous years are only $1 each. Here is what is remaining:
2021-2022 - current 5th graders were 3rd graders.
2020-2021 SOLD OUT
2019-2020 - the current 5th graders were 1st graders, current 4th graders were kindergarteners!!! This is the year we went away for spring break and didn't return to school. So many memories from pre-spring break are captured in this book! If you know any current 6th, 7th, or 8th graders or any current freshman that were Waggoner students, they are in this book. Please let them know they are only $1.
2018-2019 - the current 5th graders were kindergarteners. 
2017-2018 - some of the current 4th & 5th graders are Waggoner preschoolers in this yearbook.
Contact PTOWaggoner@gmail.com or HNakagawa@hotmail.com to order any of the yearbooks we currently have on hand.

Annual Waggoner YEARBOOK!
The Waggoner PTO creates and sells a yearbook each year. The yearbook documents Waggoner events throughout the year, including events such as Meet the Teacher, 1st Day of School, Day of Awesomeness, Trunk-or-Treat, Turkey Trot, and Glow Dance. The yearbook also includes the class photos and grade level candid photos submitted by their teachers.
As you take pictures of your littles and their Waggoner friends throughout the schoolyear, please upload them to the Yearbook folder!
We need your help filling up the pages of the yearbook. Please submit pictures you take of your Waggoner Students!  We want pictures from after school activities, Waggoner events, Meet the Teacher, sports, candid before or after school photos, Art Masterpiece photos... Put it this way, if you are at school taking pictures of your kids and their friends, please upload your favorite shots, so we can use them in the Waggoner Yearbook!!!
Click on the link(s) below to access our yearbook photos folder.  In order to get the photos in the yearbook, in the correct area, please upload them in the appropriate event or class folder.
Yearbook Cover Contest!!!
The Yearbook Cover Contest is offered each year to all students so they can have a direct hand in the design of the front and back covers of the yearbook. There is 1 front cover winner and the there are 2 back cover winners per grade level.
Last year's cover contest winner is shown below; the theme was Camp Waggoner.  This year's theme is "We Shine Brighter Together." Students, feel free to begin thinking about your design now and start sketching it out.  
Requirements for the Contest: 
Designed by a current Waggoner student
Vertical Orientation
Has to say "Waggoner"
Has to have the current year on it: "2023-2024"
Theme can be either Waggoner Wildcats or We Shine Brighter Together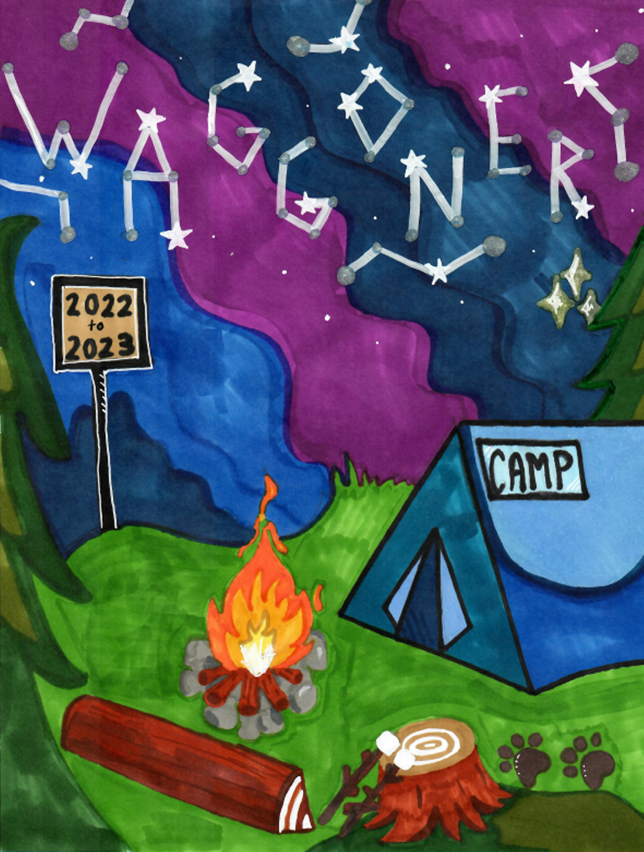 The yearbook goes on sale in January and is delivered during the last few weeks of school.

For more information or if you would like to be a part of the yearbook committee for the 2023-204 school year, please contact the program chair.