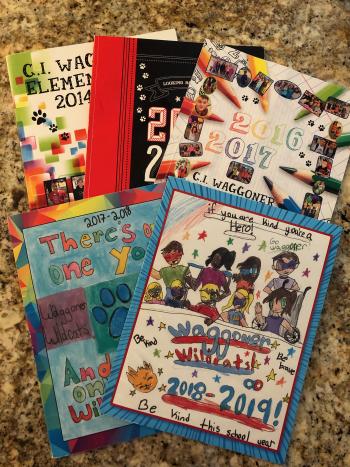 The Waggoner PTO creates and sells a yearbook each year. There is a Cover Contest offered to students so they can have a direct hand in the design of the front and back covers of the yearbook. The yearbook goes on sale in January and is delivered during the last few weeks of school. The yearbook documents many of the events throughout the year, including events such as Trunk-or-Treat and Turkey Trot, as well as class photos and grade level candid pages. Parents and volunteers take photos and submit to the yearbook committee. The committee reviews these pictures and uses them in the yearbook.
This is where YOU come in… please submit pictures you take at any PTO or school events! Click on the link below to access our yearbook photos folder. In order to get the photos in the yearbook, in the correct area, please include the name of the student(s) in the pictures & their teacher(s) in the notes of each photo uploaded. Photos without this information will not be included in the yearbook. Thank you for your help.
For more information or if you would like to volunteer on the yearbook please contact the program chairs.