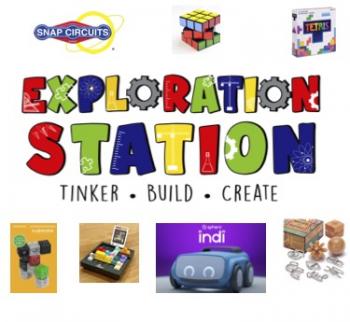 The Exploration Station was created by the Waggoner PTO to provide a STEM experience to our students during lunch recess. Each Thursday, we open a classroom during lunch recess where students* are able to come tinker, build, and create. We also have the ability to bring a STEM activity into classrooms. The Exploration Station includes hands on projects, experiments, brain games and so much more.
*Students with Exploration Station permission slips are randomly selected by their teachers to participate.  Permission slips are located here.
Exploration Station grows each year, and we'd love for you to be a part of it! Please contact the Exploration Station chair for more information!
Upcoming Events
Exploration Station is a program where students get to explore STEM (Science Technology Engineering and Mathematics) activities with their peers during their lunch recess. Join us in facilitating a fun and engaging learning environment. All Exploration Station volunteers are required to have an active fingerprint clearance card. Please follow the link to get your IVP fingerprint clearance today. https://psp.azdps.gov/services/fccFormTriage
Please review the available slots in the signup genius if you are interested in volunteering.