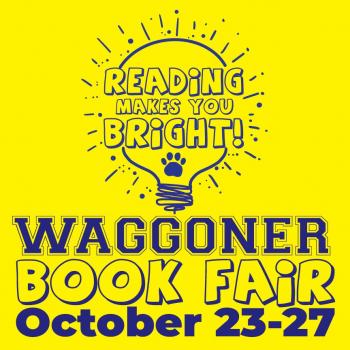 Join us for our Fall Book Fair hosted by Phoenix Book Company (PBC) and your Waggoner PTO. Students will shop with their peers during lunch recess daily. Parents can shop with their students daily after school from 2:20 p.m. - 3:20 p.m.( M,T,TH,F) and from 12:15 p.m. -1:15 p.m. on Wednesday early release. All students must be accompanied by an adult to shop after school. 
This is our first year working with Phoenix Book Company, here are some things to know: 
· Most books are 20-60% off the retail price.
· PBC provides round pricing which means tax is included in the price. You pay the sticker price, nothing more!
· This is a cash fair. We will not have E Wallets this year.
· Book Fair flyers will go home after break with an envelope for student shopping money.
· Teacher Wish List Books will be available for purchase as well as PBC Bucks (gift cards) in $5 increments. 
· There will be daily games and opportunities to win prizes by donating to our school library.
We have elected to have more books and less "stuff" this year. While we know every kid loves all the trinkets at the Book Fair, we would like our main focus to be BOOKS. 
We need YOUR help, please sign up to volunteer during our shopping hours via the SignUp link below.