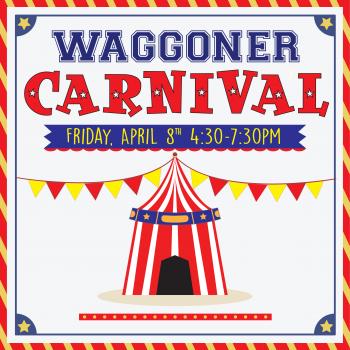 Our Waggoner Spring Carnival will be Friday, April 8th from 4:30-7:30pm. Fun for all ages with ALL INCLUSIVE wristbands going on sale Monday, March 28th. Attractions include a petting zoo, 2 inflatable obstacle courses, face painting, balloon twisting, a cake walk, food trucks and more.  All the excitement will be here at Waggoner Park. We hope to see you there.
 

Wristbands

Wristbands will also be for sale at the Carnival starting at 4:20pm for the SAME price of $12.00

We accept CASH, VENMO, Zelle and PayPal on-site.

If you want to pay by check or cash in advance, click here to download and print out the carnival newsletter, cut off the bottom, and send it in with money with your student.

You can also order your wristbands online in advance here! You can also purchase wristbands as donations for students who need additional assistance to participate. If you're buying more than one, you can make your quantity choice once you're on PayPal. 

Children 3 and under are free 

Wristbands purchased on-line will come home in student backpacks. Orders placed after 12:00pm each day, will come home the following day. Orders placed after 12:00 noon on Carnival day, April 8th, will need to be picked up at Will Call at the Carnival.
Show Us Your Singing Talent!
Beginning at 5:30pm ,there will be grade level singing performances with our very own Mrs. Weissburg and Waggles the Wildcat on the upper grade basketball courts.  Performers will receive a small prize.
PTO Raffle
We will have a raffle at this year's Carnival and we are asking that each class put together a themed basket-please contact your room parent for specific class basket information. These baskets will be displayed at the Carnival and raffle tickets will be sold for people to try their chances of winning a great prize. Baskets are being organized and assembled by parent volunteers.
Raffle tickets will be available for purchase at the Carnival. They will be $5 for one ticket, 6 tickets for $20 or 15 tickets for $50.
If you have an item you would like to contribute and donate, please contact your room parent or Cara Meaker and Shannon Winer. carameaker22@gmail.comshanno74@gmail.com
Raffle basket drop-off will be coordinated with Room Parents. Please contact Cara or Shannon if you need your Room Parent's contact information.
Legacy Tiles
Our Legacy Tiles will be available for purchase for $40 a tile at the Carnival. There will be an area set-up to paint, or you can take one home and paint it there. Legacy tiles will be displayed in our newly renovated courtyards for all to enjoy. 
All proceeds from the Waggoner PTO Raffle and Legacy Tile program benefit our school and PTO. 
Carnival Games: Student Zone 
We are excited to introduce and create a new area/zone for our schools Carnival this year. It's called the Carnival Games: Student Zone.   It is an area where kids and families (with adult supervision)  can create a carnival style game on their own and enter it to be part of the school Carnival. It's a FUN way to be creative and get involved. 
This is an optional opportunity for those interested.
We currently have 6 carnival style booth games which include: the whiffle ball toss (into baskets), the penny toss (onto flat surface), the bottle stand,  golf: hole in one, the bean bag toss (knock down cans), and the ring toss (on bottles). We ask that these games not be recreated. 
If you and your family, classmates, or friends, would be interested in creating a Carnival style game together, we would love to see your ideas and plan. Games can be created amongst family members, friends, schoolmates, etc. It's all up to you. 
We ask that you fill out the Google Form below and submit your Carnival Game by Wednesday April, 6th at 12:00pm noon 
https://docs.google.com/forms/d/e/1FAIpQLScNO1T7K0j6jePi9wtD5HGEG8q_tWQRwL_jEhRdfk4PD6SnQA/viewform?usp=sf_link
We've included a few links below to get you started. 
We are excited for the Student Zone  and look forward to seeing some fun entries.
Carnival Volunteer Opportunities    
Carnival is a great event for our community and we appreciate all the help we can get from set-up, to working a Carnival Booth, or helping with Cake Walk or Raffle table, and clean-up. Please consider volunteering a portion of your evening to help us. Also, needed are small prizes and candy donations. Thank you for your time and contributions. 
Waggoner Carnival 2022- Donations Needed
Waggoner Carnival 2022-Volunteer Opportunities
We look forward to a FUN event!!!
With questions, or to inquire about volunteering please email WaggonerCarnival@gmail.com 
Thank you!!!