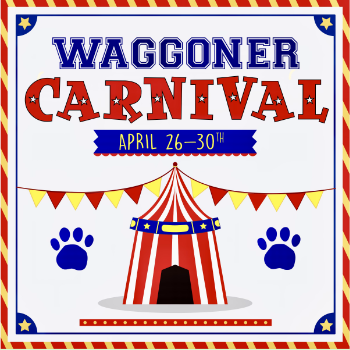 We are excited for our upcoming Virtual Carnival event happening April 26-30th. All of the activities, challenges, and games that we have planned, have been adapted to accommodate all of our in-person kids, as well as our flex distance learning kids. We are excited to share some of the details with you: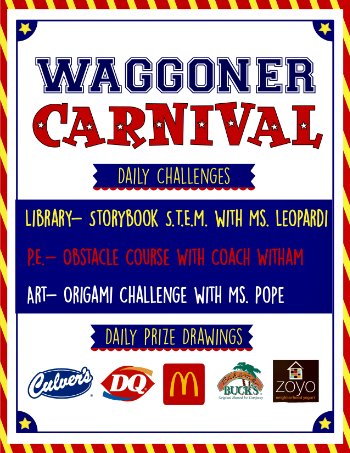 Storybook STEM Challenge with Ms. Leopardi
Obstacle Course Challenge with Coach Withem
Origami Challenge with Ms. Pope
Virtual Carnival Games
Waggoner What's Missing Game
Guessing Booth
We will also be celebrating a week long Carnival Themed Spirit Week!
4/26-4/30: Carnival Themed Spirit Week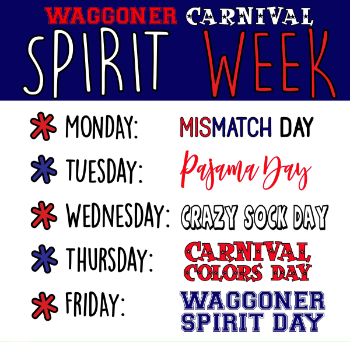 Monday: Mismatch Day
Tuesday: Pajama Day
Wednesday: Crazy Sock day
Thursday: Wear Carnival themed clothes or colors (red and white)
Friday: Waggoner Spirit Day (wear Waggoner shirt or red, white or blue)
We are excited to see all the creativity and fun!
Carnival Special Zoom Events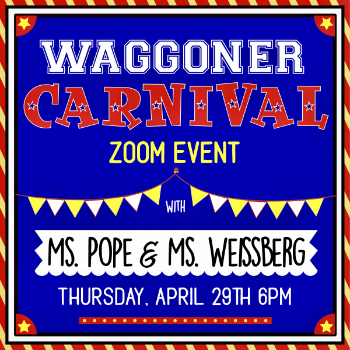 Thursday 4/29, starting at 6:00pm via Zoom, with Mrs. Pope & Mrs. Weissberg.
At 6:00pm-6:20pm: Ms. Pope will host a live sketch drawing session where she will lead them in drawing a Carnival character or animal.
At 6:25pm-6:45pm: Ms. Weissberg will host a live singing and dancing activity with the kids: 
Lip Sync Battle (K & 1) (2 & 3) (4 & 5) 
Just Dance (all students)
All students will be invited to this event and the link will be sent out prior.
This Event Is For Everyone!
All students will have the opportunity to participate in the games, challenges, and activities whether they are in in-person school or at home flex learning. Also, all students will be entered into our daily prize drawings. Stay tuned for more details. 
We are excited for this fun week ahead with our community.
Thank you,
Jessica Chuang & Heather Squires
The Waggoner PTO Carnival Committee