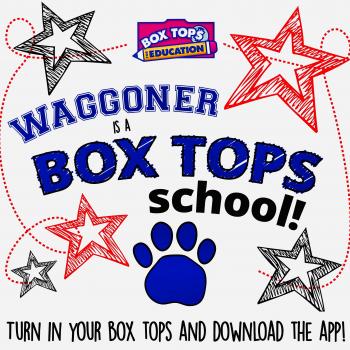 We all shop for groceries, sometimes two or three times a week. Now turn those shopping trip into easy cash for your school, and encourage friends to do the same! Just look for the Box Tops logo on hundreds of products like Cheerios®, Hamburger Helper® and Kleenex®, in almost every aisle of the store. All you need to do is clip and send them to your school's Box Tops coordinator —- each one is worth 10¢ for your school. 
Box Tops is making some changes, so right now there are two ways to participate. The classic way is to clip any Box Tops off products you buy at the store (see the Product List - Click here) and send them to school with your student. 
The new Box Top program is digital. You will need to download the Box Top app from the iPhone App Store or Google Play store, which you can then use to scan your receipt. Waggoner will earn 10¢ for each product on your receipt that is participating in the Box Tops program. Receipt scan must be completed within 14 days of purchase. Eventually the Box Tops for Education program will be completely digital but for now they will continue to accept clipped Box Tops if they are not expired. Please keep sending them in!
Over 100 retailers give eBoxTops to your school when you shop online at the Marketplace.
Plus, you become an Online Power Earner and can earn Bonus Box Tops!
Visit the Marketplace
Download the Box Tops List here
Download the Clipped Box Tops PDF here (while you still can!)